Our Brand
1377 Threads has a strong focus on creating quality, custom Upcycles, with trendy designs for the everyday kid.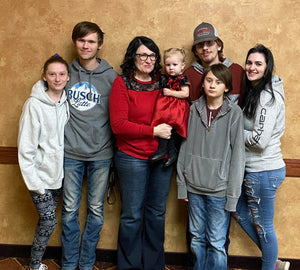 Hello From North Dakota
Hey there, I am honored you have stopped by and am excited to be able to create for you. My name is Tianne and I am a mom to a blended family with 6 kids. My husband and I married in 2008 and I taught myself to sew in late 2011. I had a long retail management career but longed to have my own small shop. It has been a journey to get to what I feel passionate about. You will see I love mixing prints in a thoughtful way and specialize in upcycled pieces.
Picture of my 2 older sons, Jared and Sawyer, with their girlfriends and my 2 youngest childern, Amelia and Charlie. Not shown is our 2 oldest daughters, Sadie and Liz and my husband Owen.